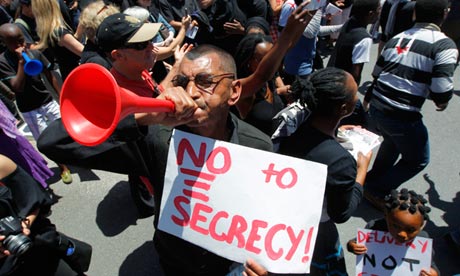 David Smith in Johannesburg,The Guardian,
Alert! Now that Parliament has passed the Secrecy Bill and sent it to President Jacob Zuma for conversion, by sweet executive alchemy, into law, South Africa's civil society is fighting back – the charge being led, appropriately, by the Right2Know campaign.
Protection of State Information Bill also known as the Secrecy bill, goes against freedom itself. It will have press, media and the citizens of this country, which is known for its all inclusive constitution, is now doing things differently. All that stands between freedom of speech and complete state secrecy is the signature of the president.
What would the implementation of this bill mean?
"Despite substantial improvements to the secrecy bill, whistleblowers and journalists who expose corruption and other issues of public interest could still find themselves in prison," said Cameron Jacobs, South Africa director at Human Rights Watch. "The Constitutional Court should decide whether the current version undermines basic rights protected by the constitution."
-
Human Rights Watch
Freedom of speech activists acknowledge that the bill has been greatly improved and amended during five years of fierce national debate. But they warn that it still contains ambiguities and harsh penalties that could have a "chilling effect" on those seeking to expose official corruption. They intend to challenge the legislation in the highest court in the land -
The Guardian,
But i tell you the way things look, protestors are rallying, getting into battle formation and is ready to fight for what they believe in.
Controversial cartoonist, Zapiro illustrates exactly what the Secrecy Bill would mean, taking into consideration all the recent controversial issues and speculation surrounding gov. activity:
Update 14 May 2013: